Best Residential and Commercial Moving Company in Toronto.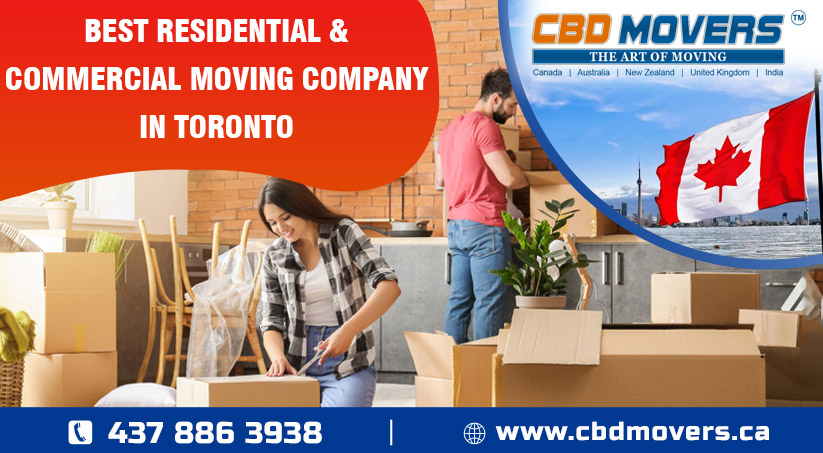 Moving to a new location, especially with all your households shall bring in mixed emotions. If you are worried about packing and moving valuable furniture pieces, please contact CBD Movers Canada, which offers the Best Furniture Moving Services in Toronto to ensure a safe and stress-free move. Tables, cupboards, piano, sofa, and wooden bed are some of the furniture items that can be easily moved or dismantled and then reassembled by a team of specialized furniture movers in Toronto. In this blog, you'll learn about the merits of hiring the best moving companies in Toronto and how to distinguish them from the crowd as well.
Search for The Licensed and Best Movers in Toronto
Before shortlisting the best movers in Toronto make sure they have valid licenses and permits from the local authorities. So, it'll be easy for you to recognize the ability of office moving companies in Toronto to move heavy furniture and other important goods safely to a new home or office. Do not miss the website created to show the licenses of the moving services offered by the best movers in Toronto. Avoid working with a moving agency that hesitates to showcase its license in the first place.
Keeping Your Furniture Items Safe With An Insurance Policy:
Although professional commercial and residential movers in Toronto use special tools and equipment to move your belongings safely, you must have an insurance policy to cover everything for a variety of reasons. Any form of dent or damage could happen to your packed belongings if there are potholes in all the road that leads to your newly rented house. By finding reliable residential or commercial movers in Toronto that often provide insurance policies covering all of your furniture items, you can apply for reimbursement if any drastic situation happens during relocation.
Go Through All The Reviews Posted Online:


Always have some time to read the reviews from old clients that are posted either on the official web portal of professional movers offering commercial or residential removals services in Toronto or on Google, Bing, and Yahoo. Filter out the fake reviews that are written only praising the moving agency, and find the ones that have genuine reviews shared by their real clients.
Options of The Customized Moving Package:
You must choose a comprehensive moving package only if it includes the required moving services that can help you complete your moving process as a hassle-free one. If the packages are more than your estimated budget level, then your hired professional movers should be able to customize the moving services based on your needs. It helps you to save your hard-earned money and only pay for the services that you need in the first place.
Toronto's Best Residential and Office Movers
CBD Movers Canada has been providing tons of residential and commercial moving services in Toronto that you can easily incorporate into a moving package by getting in touch with their team of best movers in Toronto. With years of experience in the residential and commercial sector, their team of expert furniture movers in Toronto will undertake any kind of furniture dismantling process only after drawing up a moving plan and receiving your consent to do so.